SAMSUNG UE65TU7025KXXH 4K UHD  65" HDR Smart TV
Color and detail designed for you
*Samsung is ranked #1 TV brand for 14 years* Source - Omdia, Jan-2020. Classification in terms of shipments. The results are not an endorsement by Samsung. Any reliance on these results is the responsibility of third parties.
Clear and vibrant expression of colors
Crystal UHD
Immerse yourself in the image with a wider range of colors. The new screen made up of crystalline inorganic nanoparticles is capable of reproducing more vibrant and crystalline colors, which do not degrade over time.
Powerful Image Quality
Crystal UHD Processor
The Crystal UHD processor converts low-resolution content into a 4K-level image by upscaling every detail. With 16-bit color mapping, you always have the best possible imaging experience, no matter what the content.
Feel the true 4K UHD resolution
4K resolution
The 4K UHD TV goes beyond regular FHD with 4 times more pixels, giving your eyes the sharp, crystal-clear images they deserve. See as if you were actually present in the scene.
See all the details
HDR
High-Dynamic Range enhances the expression of brightness on your TV, so you can enjoy a wide spectrum of color and visual detail, even in dark scenes.
your new home office
Remote access
Catch up on office work from your home TV. Remote Access lets you share your computer screen on the TV screen wirelessly.
*Some features may vary by model and region. *The TV and computer must be connected to a network. *Screen sharing only available for Window 10. *Remote connection on Windows computers is only supported for Windows 7 or later. *Remote connection on Mac computers is only supported for Mac Os X 10.5 or later. *Computer accessories such as mice and keyboards sold separately. *This service requires configuration to allow remote access on a computer.
make the game faster
Game mode
Play faster. Game Mode reduces the lag time of your games, allowing you to reach your ideal game speed. Experience gaming at its most impactful form without motion distortion and flicker.
*Feature availability may vary by game console.
Eliminate sources of distraction
Easy cable solution
The Samsung UHD offers an easy solution to keep all your TV cables tidy by hiding them in the holder itself. This helps to reduce potential sources of distraction so you can enjoy your TV's spectacular design.
* The actual product may differ from the picture shown. See the product image gallery. * This feature does not apply to 43 inches.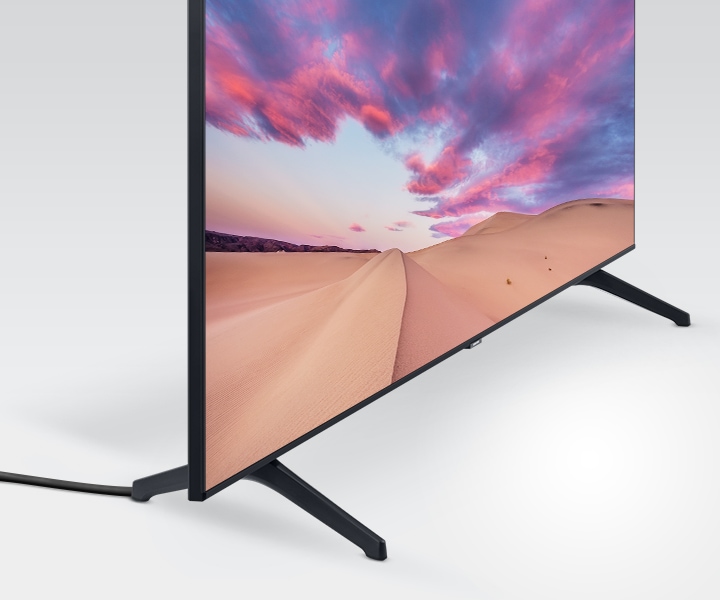 Fits your home ecosystem
Compatible with
Make life more connected. Samsung TVs work easily with Apple AirPlay 2.
*Some features and functions provided by connected devices may not be supported or may have limited use.
Compatible with AirPlay 2
AirPlay 2
With built-in AirPlay 2, you can stream or share content from Apple devices to your TV. Conveniently view your videos, music, photos and more from your iPhone, iPad or Mac on your Samsung TV.
*This service may not be available at the time of purchase of this product and availability may vary between regions. *Simulated images for illustrative purposes only. *Feature availability and Graphical User Interface (GUI) may vary by region. Check before use.